Soil Quality Control Testing
Our projects include residential and commercial development, Highway infrastructure, aggregate production and quality control.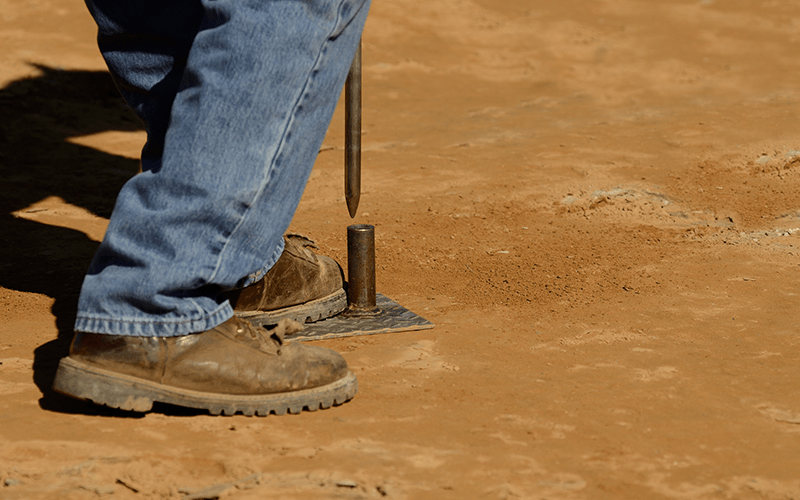 Providing Soil Quality Control testing in British Columbia
Our lab is certified by the Canadian Council of Independent Laboratories (CCIL) and is monitored regularly to maintain stringent controls. Our certified technicians perform all testing standards as required by ASTM, CSA and CCIL and results can be provided within 24 hours, often within the same workday. Field inspection services include density testing by nuclear method or sand cone, bearing capacity, Benkelman beam, determination of infiltration rate etc. Clearly written reports of inspection and testing activities are typically provided electronically within 24 hrs. of testing.
Soil Quality Control Testing Services:
Benkelman Beam Testing (ASTM D4695)
Specific Gravity of Fine & Coarse Aggregates (ASTM C127/C128)
Atterberg Limits (ASTM D4318)
Soundness Testing (ASTM C88)
Micro-Deval – aggregate durability testing (ASTM D6928)
In-Place Density Testing by Nuclear Method (ASTM D6938)

In-Place Density Testing by Sand Cone Method (ASTM D1556)
Moisture-Density Relationships (ASTM D698/D1557)
Grain Size including sieve and hydrometer analysis (ASTM C117/C136/D422)
Sand Equivalency (ASTM D2419)
Fracture Count (ASTM D 5821)
Flat & Elongated Particles (ASTM D4791)
Static Plate Load Testing
Your Materials Testing Partner
From our highly trained staff to our fully-equipped lab, we are your materials testing partner for commercial and residential jobs in Vancouver, the Lower Mainland and British Columbia. 
About Us
Advance Testing Ltd. offers Materials Testing Engineering and Testing Services in a variety of residential, and commercial infrastructure and building projects throughout the Lower Mainland of BC.
We welcome the opportunity to work together to provide common-sense solutions for your project. 
SERVICES
OVERVIEW
SOIL TESTING
CONCRETE TESTING
ASPHALT TESTING
QUALITY CONTROL
CONTACT US
Unit 5, 9525 – 189th Street, Surrey,
British Columbia

---

Call: 604 513 0316